----- Aquasani RFX 2 in 1 Liquid Non-Alcohol Hand & Air Sanitizer Spray -----
Non-alcohol 无酒精
Non-toxic 无毒性
Non-carcinogenic 无致癌物
Non-preservatives 无防腐剂
Non-flammable 非易燃物品
No harms to respiratory health 布伤呼吸道
Aquasani RFX 2 in 1 Instant Sanitizer Spray does not contain alcohol, but the Benzalkonium that less than 0.1% and lavender essential oil of ingredients is proven effective in killing germs. Approved by TDS, SDS & EN1040 which is safe for kids without causing harm to the skin. 100ML spray bottle design is convenient for home or travel use.
Why Choose Aquasani RFX Hand Sanitizer Spray?
1- Rinse free.
2- Tested by EN1040 and 99.999% effectively in killing germs & protecting against COVID-19.
3- Infused with 100% Natural Lavender Essential Oil.
4- Non-alcohol, safe for pregnancy & kids.
5- Reduce Infection Risk.
6- Suitable for skin surface & air disinfection.
7- Product safety and bactericidal activity of chemical disinfectant tested and approved by TDS, SDS and EN1040.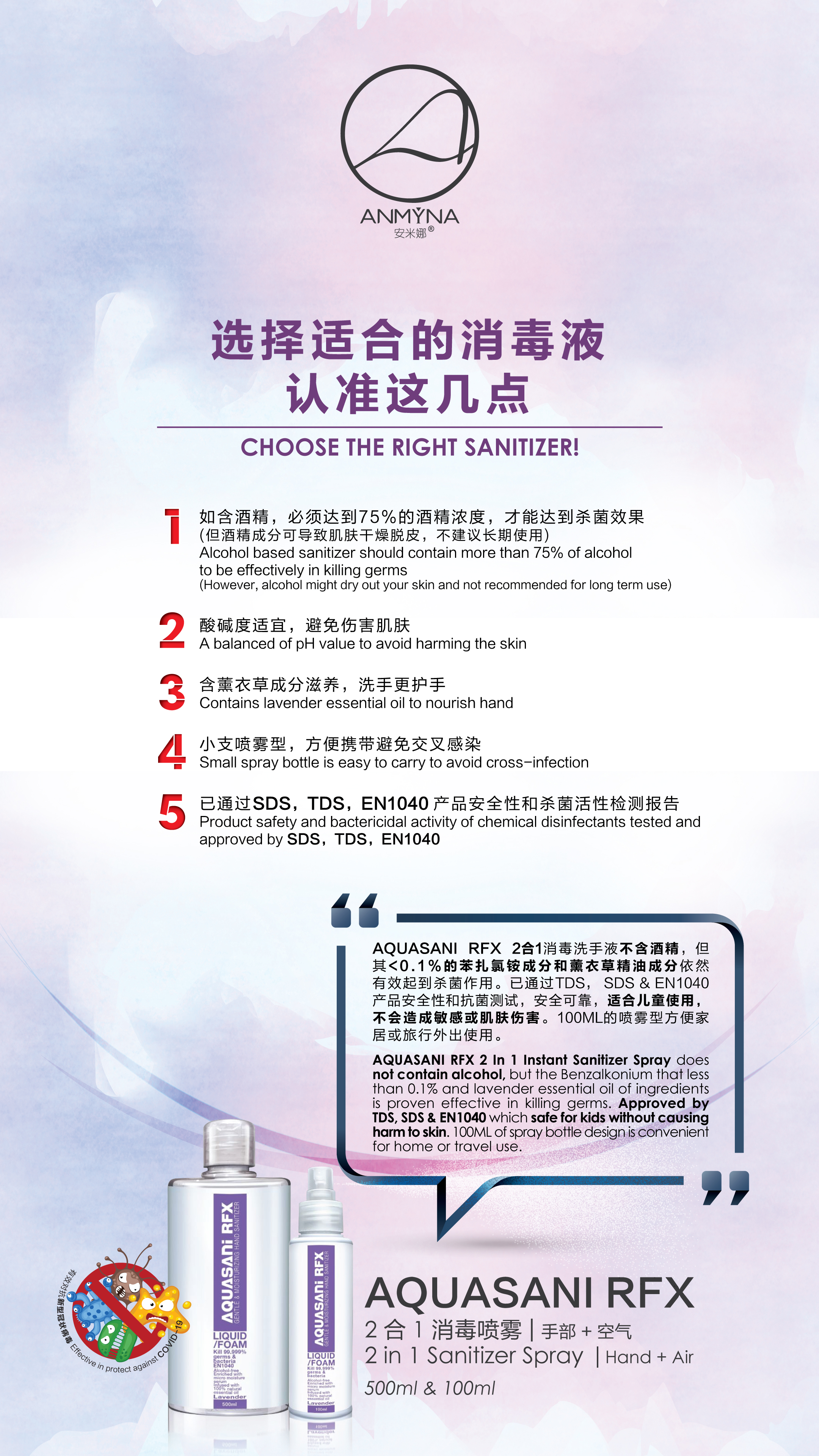 Order Notice
Kindly read carefully for more information, thank you.
本店小小提示,请阅读了解哦!谢谢您。
1. We will inform you that to make exchange or refund if which products sold out .
如果货物售完,我们将通知您做兑换商品或退款。
2. Kindly choose the type and size of Lingerie and Vinscon Lens carefully. We do not accept make any changes when order received.
请小心选择您要的隐形眼镜度数和内衣款式与尺码,订单接收后将无法取消或修改订单。
3. Products other than clothing may be shipped separately to ensure that you receive the goods as quickly as possible!
服饰以外的商品或许会分开邮寄,以确保您们以最快速度收到货物!
4. Shipping fee as below:邮费计算如下
West Malaysia

西马

RM6

(

Unlimited kg

无限重量与件数)

East Malaysia

东马

RM18

(

Unlimited kg

无限重量与件数)

Singapore

新加坡

RM30

(

Below 1kg

,

1kg

以内)

Other Country will be calculated automatically when check out

其他国家结单时将自动计算邮费。
If you have any questions, you can contact WhatsApp/WeChat at 017-9268588 (Text Only). Thank you.
如有任何疑问,可联系WhatsApp/微信: 017-9268588(只限信息). 谢谢您。